Reach-in Showcase
Leader of cutting edge technology / Pride of LOTTE ENGINEERING & MACHINERY MFG is more than usual
Half Door Freezer
Product
State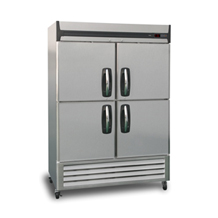 Half Door Reach-In Freezers
Product
Standard Features

- Air cooled condensing unit
- Anti-condensate heater wires on door openings
- Automatic condensate vaporizer
- Automatic defrost
- Casters
- Capillary tube system
- Curved handle with recessed pocket
- Door open alarm
- interior light
- key locks
- Magnetic gasket
- Microprocessor with digital display
- Operating temperature range" +5℉ to +0℉
- Polyurethane insulation
- R-404a refrigeratn
- Stainless steel interior and exterior
- Vinyl coated shelves
- UL, C-UL, ETL Sanitation & ENERGY STAR listed
Optional Features

- 6" adjustable legs
- Extra shelves
- Pan slide rack
Specification

- Exterior front sides and doors are stainless steel. Exterior top, bottom and back are galvanized steel.
- Interior liner and interior door panel are stainless steel.
- The complete cabinet and door(s) are foamed-in-place with polyurethane foam insulation.
- Heavy duty, pivot hinges; key locks; curved handle with recessed pocket; self adjusting magnetic gaskets; 4" dia. casters (4 casters on one and two door models and 6 casters on three door model). 4 vinyl coated shelves per door section - standard.
- All models are standard with complete perimeter, anti-condensate door frame heater wires. An interior incandescent light is activated by a switch for each upper door.
- Microprocessor with digital display allows temperature adjustment at control panel. Reads ℉ or ℃.
- Complete bottom mounted refrigeration system with a copper tube, ceiling mount aluminum fin coated evaporator. The condensate is collected and automatically evaporated form an energy efficient air over wick style vaporizer. Drain line is recessed in cabinet back. Refrigerant flow is controlled by a capillary tube. R-404a refrigerant. Operating temperature range: -5℉ to 0℉.
- UL, C-UL, ETL Sanitation and ENERGY STAR Listed.